Are you looking for a quick and easy weekend family getaway in Spain?  Want to escape from the ski-week crowds on the slopes in February or the hordes of beach-goers in the Canary Islands over Semana Santa?  The Nanny Line, your high-end international nanny service in Barcelona has found the perfect solution:  Why not book an off-season family trip in the Balearic Islands?  Keep reading to learn our top 10 reasons why we think Ibiza, Mallorca, Menorca or Formentera should be where you travel to this spring.
Top 10 Reasons To Book an Off-Season Family Trip to the Balearic Islands:
1.Hotel and airfare rates are cheaper.
Spain's low-cost carrier, Vueling, offers flights for as low as 20 euros one way for an adult in the off-season from Barcelona to Ibiza, for example.  They even have a special guide for traveling with children.  According to cheapflights.com, flights to the Balearic Islands are the cheapest in March of each year.  Many hotels in the larger cities, desperate to fill rooms in the quieter months offer special family packages or weekend deals, especially in January and February.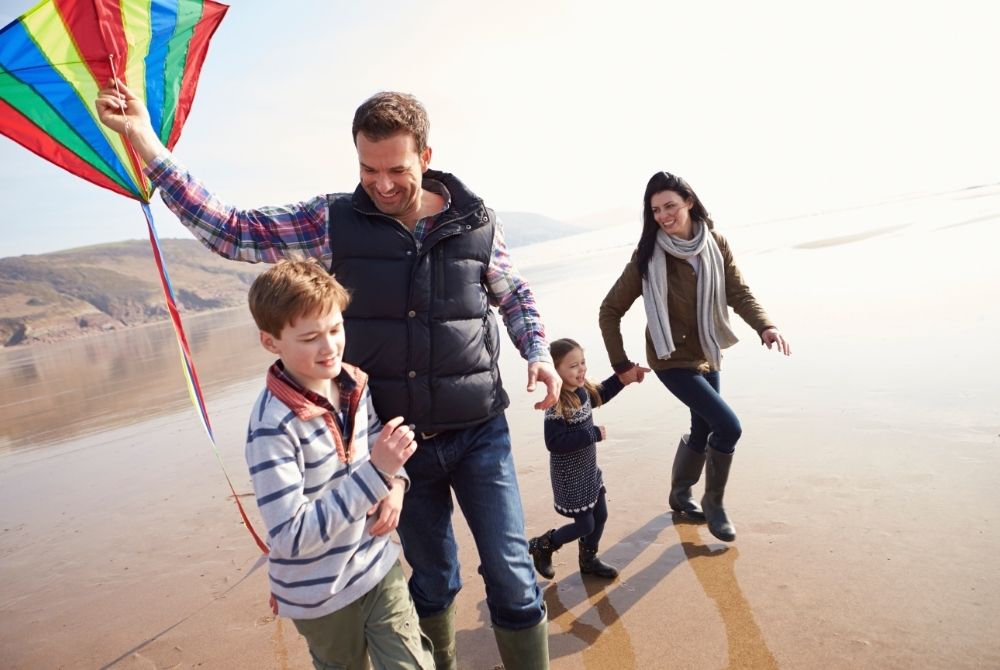 2. Beaches are blissfully empty.
What parents among have had to apologize for our little ones flinging sand on a neighboring beach-goers towel?  Or had a tough time explaining the silly behavior of the drunk person in the beach chair next to your family?  A day of being squished in like sardines, mere centimeters between towel edges, is no one's idea of a relaxing beach vacation.  Instead, in the off-season, you will have the Balearic Island's best beaches almost to yourself.  Milder temperatures are perfect for family beach walks, flying kites in the winter winds, and building sandcastles without getting into turf wars.  The water will be cool, but your kids will still probably want to dip their toes in the water.  Menorca offers shallower beaches than Mallorca, so this island may be better for toddlers wanting to wade next to the water's edge.
3. There are fewer package tours in the off-season.
The relatively short flights from most of Europe have long made Spain's Balearic Islands top holiday destinations over the summer.  Last July alone, more than 1.7 million tourists visited Mallorca.  This extreme mass-tourism has even driven Mallorca's tourism board to start a #betterinwinter promotional campaign to try to spread the number of tourists visits over the entire year.  You can see for yourself why the islands are #betterinwinter, not overrun with package tours.
4. You don't have to worry about sunburns or jellyfish stings.
You can check out the monthly average temperatures, rainfall, and hours of sunlight for each of the four Balearic Islands at this helpful website, but in general, between February and the end of May, the water will be cool but the days will be sunny and warm, with little chance of precipitation and nice breezes to keep you from getting overheated.  This means that your little ones won't be running around in skimpy bathing suits with their fair skin exposed to harsh sunburn-causing rays.  No sunscreen battles- hooray!   Just in case you are worried you can check out the helpful Medusa App to track any jellyfish sightings by location.
5. Quieter, less-crowded cities are open for business and exploration.
During the popular summer months, Spain's world-famous nightlife draws crowds of young party-goers to clubs for raves that go all night long.  Cities such as Ibiza or Palma, Mallorca become overrun with drunken hen parties, stag nights, and traffic jams.  Cruise ships the islands' port cities on a daily basis.  But off-season, life returns to normal.  More stores, restaurants and hotels are likely to stay open during the off-season in the bigger cities than in more rural towns or smaller islands like Menorca and Formentera. 
Even in January, Palma, Mallorca's capitol city gets a daily average of 5 hours of sunshine.
6. Cooler temperatures February-May are better for outdoor family activities such as hiking, biking and horseback riding.
Exploring Mallorca's mountains of the Sierra de Tramuntana (a World Heritage Site) is unthinkable in the blistering heat of July and August, but your kids will love adventuring in the natural beauty of Mallorca's more remote western coast in the early spring months.  If you are a family who really loves horses, you can even plan a whole horse-riding vacation, circling Menorca's recently restored 185 km Camí de Cavalls (Path of the Horses)!
7. Yoga and spiritual retreats are available in the off-season.
In the push to fill rooms off-season, some resorts are getting creative and catering to the yoga-retreat travel industry.  While not exactly family-friendly, why not book one of our occasion nannies to stay with the kids and treat yourself to a weekend of self-care and Zen?  Don't forget, self-care can help you be a better parent.
8. You can plan your own "off-season foodie break."
During the low season it will be easier to score tables at some prime restaurants.  Gastronomic tourism is a great way to learn about the island's culture, history, and food traditions.  There are several family-friendly chefs and cooking workshops to explore as well, such as Deborah Piña Zitrone on Mallorca or the chefs at Cuk-Cuk on Menorca.
9.  Getting on the road in a rental car is cheaper and easier in the off-season.
February-late May there will be less traffic on the islands' smaller roads, fewer tour buses, and many rental car agencies have special off-season deals.
10.  The islands' main tourist destinations won't be crowded.
For example, In the summer months, you will have to wait 1-2 hours in line with the other package tour groups to see Mallorca's famous Arta caves filled with awe-inspiring stalactites, stalagmites and dripstones.  Why not save your kids some temper tantrums and choose a quieter time of year to explore all the unique sights of the Balearic Islands?
With quick and easy flights from Madrid or Barcelona, affordable accommodation packages, fewer crowds and milder temperatures, what's not to love about off-season travel to the Balearic Islands?  
Do you have other favorite family weekend escapes from Barcelona or Madrid?  The perfect winter escape or Balearic Island itinerary for families?  Let us know below in the comments section or on our Instagram or Facebook pages.  Looking to have some couple's time without the kids?  Our holiday nannies can either travel along with you or we even have nannies available in Ibiza, depending on when you are planning to travel.  You can book occasional or holiday nannies online or give us a call to find out more about the services we offer.