Today's smart entrepreneurs will be looking to reach the international market. According to Arancho Doc, a global translation agency, 55% of online content is English. To succeed in the global economy, your website and blogs must be in English.  The right copy will build trust in your brand and strengthen its global reputation. Hiring a native English-speaking copywriter can be the difference between success and failure.
Your Website Is Your Welcome Mat
First impressions matter. We are all cautious shopping online, especially when it comes to our health. Where is the first place we all go to make sure a product or service is legitimate? The Internet.  That is why website content written by a native English-speaking copywriter is so important for building trust. People will judge your company based upon what they find when they get to your website. Having an internet presence is critical to establishing credibility, particularly if your company is not based in the United States. A well-written English website enables your company to sell abroad, grow faster, strengthen your brand and improve conversion rates (turn visitors into customers).
Using American English will give the appearance of being a U.S. company, or at least one experienced with the U.S. market, which also builds credibility.  Do your competitors have a multilingual website? Then you should too.  Why not give your business a competitive edge?
Translating your website into English will build trust among your consumers, help expand your market, and build your competitive advantage.  Consumers are 70% more likely to purchase online if content is in their native language.(Arancho Doc)
A Native English-speaking Copywriter Cultivates Positive Word of Mouth
If you provide useful information in your blog, your readers will come back for more.  They will also be more likely to share your helpful tips or refer friends and family to your website. Word of mouth marketing is, at its heart, using happy customers to promote your business. An native English-speaking copywriter will choose the right words (and credible references) to position you or your company as the expert in its field.
Your Copy Must Be Authentic and Accurate
Americans respect honesty. We appreciate straightforward information. We like some good scientific data to reassure ourselves, but only if we can understand it.  Too many numbers, figures, and complex medical jargon and you've lost us.
Over-promising quick-fixes, simple solutions, or overnight cures will raise alarm bells in your readers' minds. A skilled copywriter can help you stick to the facts. They can convey the information in a way that is engaging and believable. Skip the hype, and make your information clear and easy to understand.
Native English-Speaking Copywriters Know Cultural Nuances
American English has many cultural nuances and expressions. Someone who has learned English as a second language or was not born and raised in the U.S. may not be able to write health-related copy that resonates in the same way. Health is cultural. Beliefs about wellness vary across international borders.  A native-speaking copywriter will use popular expressions figures of speech, and pop culture references correctly to engage your target audience.
A native English speaking copywriter will also be able to write in the right tone, whether that's authoritative, educational, casual or fun. You need copy that sounds natural, not forced. If customers don't believe your copy, they won't trust you, and if they don't trust you, they won't buy your product or service.
Spelling Counts
Nothing screams foreign more loudly than spellings than mispellings. Americans spell English words like favorite, humor, gray, center and theater differently than their British, Australian and Canadian counterparts.
The most commonly misspelled American English health and medical words are:
paediatric
gynaecology
behaviour
foetus
ageing
per cent
foetus
Translation Clinic lists more common spelling differences of medical terminology for your spell-checking enjoyment.
Translations Don't Cut It
If you already have a website or other marketing materials written in your native tongue, don't assume you can simply translate them into English. Americans will pick up on incorrectly-translated copy. They will also be able to tell when someone who is not 100% fluent has written the text.  According to Big Translation, translations usually include unnecessarily formal or awkward expressions and rely too heavily on medical jargon for descriptions of health-related terms.
In our own languages, mistakes and odd phrasings, out of place expressions and prose that doesn't flow well, all have a way of leaping out at us and drawing attention to themselves.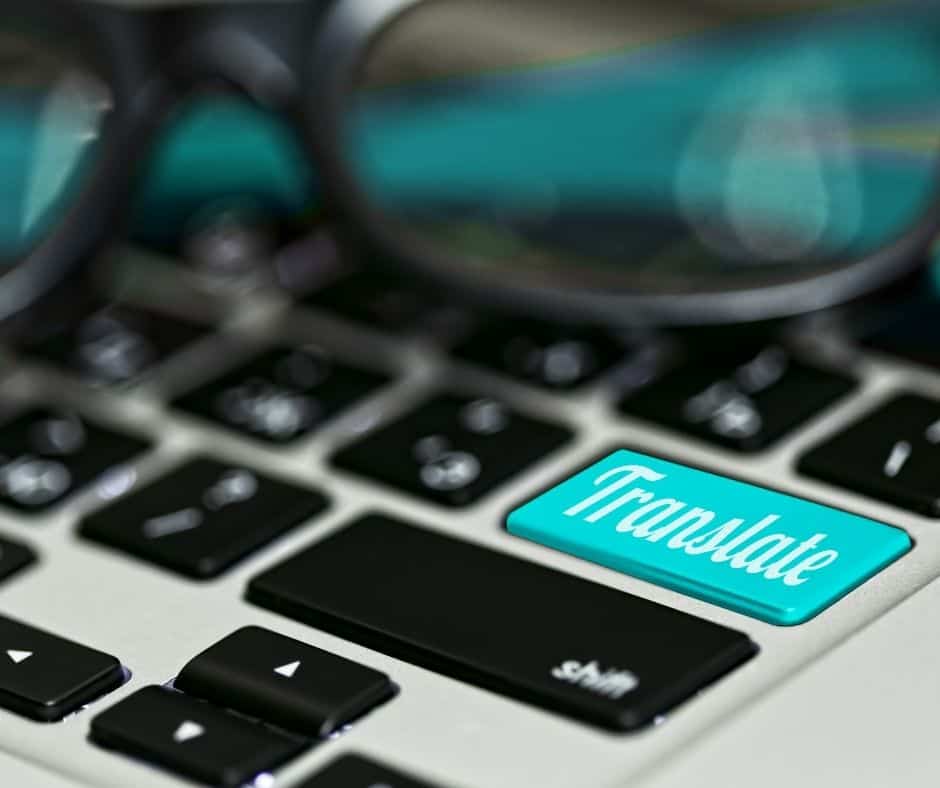 Readability Really Matters for Health and Wellness Content
Trying to explain complex medical terms, scientific findings, or numerical statistics is confusing enough in your native language.  Don't risk your target audience misunderstanding or clicking away from your website.  You want content that clearly and convincingly tells site visitors how you can help them live their healthiest lives.  A native-English speaking copywriter can help you write copy that builds health literacy.  Not only is health literacy necessary for healthy clients. Health literacy is also a critical part of building consumer understanding and trust.
Search online and you'll find plenty of copywriters offering to write your website in English. Not all copywriters speak the kind of English your global business needs. Need help? Contact Amy Harris, an American health copywriter and native English speaker. If you found this blog post helpful, please share it with other international business colleagues you think could benefit from reading it.